I'm joining Inspired by Charm's Thrift Thursday again.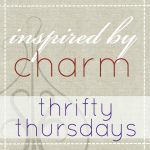 I've been collecting old embroidery hoops from thrift stores for a while now.
I started with about 6. Now I have 22 and I'd like more. I'm not in LOVE with the placement, but moving them around means putting even MORE holes in the wall. I went with a red, black & white theme since that's what I have through most of the house. I'd like to add another color in somewhere - maybe some aqua or yellow or ??
The empty ones are just empty till I find more fabric.
On three of them I just wrapped fabric around the outside edge and put a couple ribbons across the hoop. I usually attach pictures to these with tiny clothes pins.
Remember the bench from last week?? We finished it yesterday. It's out front for now, but we'll probably move it to the back patio till we get a house with a nice big front porch!